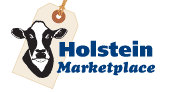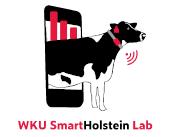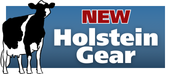 Breed Characteristics
The Holstein Breed History
Historical Leaders for Milk Production

Holstein cattle are most quickly recognized by their distinctive color markings and outstanding milk production.

Physical Characteristics
Holsteins are large, stylish animals with color patterns of black and white or red and white. A healthy Holstein calf weighs 90 pounds or more at birth. A mature Holstein cow weighs about 1,500 pounds and stands 58 inches tall at the shoulder. Holstein heifers can be bred at 13 months of age, when they weigh about 800 pounds. It is desirable to have Holstein females calve for the first time between 23 and 26 months of age. Holstein gestation is approximately nine months. While some cows may live considerably longer, the average productive life of a Holstein is approximately four years.


The 2017 average actual production for all U.S. Holstein herds that were enrolled in production-testing programs and eligible for genetic evaluations was 25,676 pounds of milk, 963 pounds of butterfat and 799 pounds of protein per year.

Top producing Holsteins milked three times a day have been known to produce over 72,000 pounds of milk in 365 days.


Holstein dairy cattle dominate this country's milk production industry. The reason for their popularity is clear: unexcelled production, greater income over feed costs, unequaled genetic merit, and adaptability to a wide range of environmental conditions. Added up, this means more profit for the dairy producer who milks Holsteins. This point becomes even clearer when you consider that nine of every 10 dairy producers currently milk Holsteins.








Modern Ideal Holstein Bull





When migrant European tribes settled the Netherlands close to 2,000 years ago, they wanted animals that would make the best use of the land. The black cattle of the Batavians and white cows of Friesians were bred and strictly culled to produce animals that were the most efficient, producing the most milk with limited feed resources. These animals genetically evolved into the efficient, high producing black-and-white dairy cow, known as the Holstein-Friesian.

Imports to America
With the settlement of the New World, markets began to develop for milk in America. Dairy breeders turned to Holland for their cattle.

Winthrop Chenery, a Massachusetts breeder, purchased a Holland cow from a Dutch sailing master who had landed cargo at Boston in 1852. The cow had furnished the ship's crew with fresh milk during the voyage. Chenery was so pleased with her milk production that he imported more Holsteins in 1857, 1859, and 1861. Many other breeders soon joined the race to establish Holsteins in America.

After about 8,800 Holsteins had been imported, a cattle disease broke out in Europe and importation ceased.

In the late 1800's there was enough interest among Holstein breeders to form associations to record pedigrees and maintain herdbooks. These associations merged in 1885, to found the Holstein-Friesian Association of America. In 1994, the name was changed to Holstein Association USA, Inc.



Mature Holstein Cow in the 1950's



In May 1887, a noteworthy event in the history of the Holstein breed in America took place. It was the Madison Square Garden dairy cattle show where the four leading dairy breeds - Ayrshire, Jersey, Guernsey, and Holstein-Friesian - met for the first time to see which was the greatest producer of milk and butter. Prizes of $200 were offered for both 24-hour milk production as well as butter production.

Most observers conceded that a Holstein would win a milk production prize, but the Jersey breeders were certain that they would take the butter prize - so certain that they offered a handsome silver cup, with a beautiful Jersey cow engraved on the side, to the winner. However, that cup is now sitting in the Holstein Association USA office in Brattleboro, VT. When the butter samples were weighed, Clothilde, a Holstein owned by Smiths & Powell of Syracuse, had won the $200 and the silver cup.

This decisive victory in a public butter test, which followed on the heels of the triumph in 1883 by Thomas Wales' imported cow, Mercedes, over the famous Jersey cow, Mary Ann of St. Lamberts, caught the attention of dairymen across the nation at a time when butter production was important and all dairy breeds were fighting for recognition. Holstein breeders were quick to follow up on these trail-blazing successes, and the consistent victories in competition played a big part, especially in the Midwest, in the rapid expansion and popularizing of the Holstein breed.

More detailed information on the history of the Holstein breed and Holstein Association USA can be found in the book Progress of the Breed by Richard H. Mansfield.

| | |
| --- | --- |
| | |
| | Clothilde |
| | |
| | |


The artificial insemination (AI) industry has had a tremendous impact on genetic improvement of the breed. Since perfection of the semen freezing process in the late 1940's, AI has allowed the use of superior, proven bulls by Holstein breeders across the country. Today, AI accounts for 85 percent of Holstein births.

AI made the development of reliable, unbiased methods to evaluate Holstein genetics possible. With AI, a single Holstein bull can sire as many as 50,000 daughters. Type and production information on all these females makes it easier to predict performance of future offspring and evaluate the quality of genetics transmitted from sire to offspring.

In the late 1960's, the AI industry, the Dairy Herd Improvement Association (DHIA) and breed organizations, including the Holstein Association, worked together to develop genetic tools that dairy producers could use to breed their cattle for improvement. They used type and production information and research data from universities to develop measures Holstein breeders now use to evaluate bulls and select sires according to their needs.

Today, dairy producers have the ability to utilize genomic technology to discover the genetic potential of their animals at an earlier age than ever before. Genomic testing analyzes the DNA of an animal to determine what genes they actually possess, information that can be used to estimate future performance more reliably than simply taking an average of the parents' genetic values. The majority of bulls that enter AI are genomic tested, and many breeders are genomic testing their females to make more educated breeding decisions, particularly on heifers. One thing is for certain - technology is constantly evolving, with more tools being added to breeders' arsenal of options to consider in their journey to breed a better cow.




Such convincing evidence of genetic superiority has created an active export market for Holstein genetics. Live Holstein females and males and frozen embryos and semen are being exported to numerous countries worldwide and used extensively to improve foreign food supplies and dairy producer incomes.

Bred and Owned by Selz-Pralle Dairy in Humbird, Wis.
Record completed in September 2017
3X 365 days 78,170 lbs



Bred and Owned by Thomas J. Kestell, Waldo, WI
Record completed in December 2016
3X 365 days 77,480 lbs



Bred and Owned by Bur-Wall Holsteins, Brooklyn, WI
Record completed in November 2015
2X 365 days 74,650 lbs



Bred and Owned by Thomas J. Kestell, Waldo, WI
Record completed in February 2010
3X 365 days 72,170 lbs



Bred by Thomas and Nancy Murray, Waterloo, NY
Owned by Floyd & Lloyd Baumann & Fred Lang, Marathon, WI
Record completed in November 1997
2X 365 days 67,914 lbs



Bred and Owned by Floyd & Lloyd Baumann, Marathon, WI
Record completed in August 1996
2X 365 days 63,444 lbs




Bred and Owned by Raims Dairy, Cedaredge, CO
Record completed in May 1995
3X 365 days 60,440 lbs




Bred & Owned by Bell-Jr Group, Calhan, CO
Record completed in January 1995
3X 365 days 60,380 lbs




Bred & Owned by Robert M. Thomson Jr., Springfield, MO
Record completed in August 1993
2X 365 days 59,300 lbs




Bred by Nancy Fleming, Orford, NH
Owned by Tullando Farm, Inc., Orford, NH
Record completed in December 1992
3X 365 days 58,952 lbs




Bred & Owned by Beecher Holsteins, Rochester, IN
Record completed in October 1975
2X 365 days 55,661 lbs




Bred & Owned by Clarence & Kenneth Mowry, Roaring Spring, PA
Record completed in December 1974
2X 365 days 50,759 lbs




Bred & Owned by Gelbke Brothers, Vienna, OH
Record completed in May 1974
2X 365 days 45,270 lbs




Bred & Owned by Tenneson Bros., Sedro Woolley, WA
Record completed in October 1971
2X 365 days 44,019 lbs