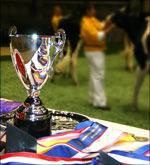 The one-day conference is scheduled to run from 8 am to 4 pm and will include judging classes as well as classroom time. Judges conference attendees must be at least 22 years of age. International judges that are interested in judging National Shows in the U.S. are encouraged to attend a conference and apply for the Holstein Association USA Judges Lists.
The fee to attend will be $50 for pre-registrants and $100 for late registrants. If you are pre-registering, you must do so on this web site two weeks prior to the conference you plan to attend. Payment for pre-registrations will be accepted by credit card only on our secure online registration and payment system. Refunds will not be given to those who do not attend the conference they register for.
If you are not pre-registered by the deadline, you will need to pay $100 online with credit card or by cash or check at the door the day of the Judges Conference.




INSTRUCTIONS

Click on the button below to register for the conference you plan to attend. Only one person may register for one conference at a time. In the "Customer ID" field, please enter the name of the person that will be attending the conference.
If you have any problems or questions, call Jodi Hoynoski at 800.952.5200 ext. 4261.