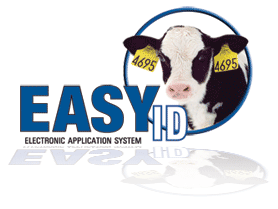 File Download &
Installation Instructions

Have questions?
Contact the EASY Support Line!
Call us at 800.952.5200 ext. 4205

or

*Note: You must have a high speed internet connection to download this program. If you are using a dial-up connection, please call 800.952.5200, and we will mail you a CD of the program. We apologize for any inconvenience this may cause.



, Holstein Association USA's lectronic pplication stem, allows users to submit registration applications and Custom Tag orders over the internet. If using Tag ID, customers can easily set up and assign varying tag styles to differentiate groups of animals. EASY ID offers all of the same features as earlier versions, but has a more user-friendly interface.

Users may manually enter animal information, or import it from the herd management software of their choice.

EASY ID offers effortless importation of calf data from the following herd management programs: PC Dart, DHI PLUS, DC 305/Scout, DairyQuest, Westfalia Dairy Plan 5.0, CowSearch, BarnOwl/Heifer 98, DairyDat, HerdPro 5.0, and Dairy Enterprises. EASY ID maintains a database with all records that were submitted.

Once all of the data is entered, customers with an internet connection may hit "Submit" to send the file directly to Holstein for processing. Additionally users can use any email program to send EASY files.

The email address is easy@holstein.com.

EASY ID works with all forms of official Holstein ID: Tag ID, Tag and Photo, photos and sketches.


System Requirements

| | |
| --- | --- |
| Operating System: | Windows XP or higher |
| Disk Space: | 100 MB free disk space |
| Memory: | 512 MB RAM Memory |
| Display Setup | 1024x768 pixels |
Download Details

| | |
| --- | --- |
| Fees: | Free |
| Company: | Holstein Association USA, Inc. |
| Version: | Build 619 |
| Release Date: | August 2023 |
| File Size: | 14 MB |