Brattleboro, Vt., April 6, 2021 —STONE-FRONT LEADER HILDA, a 15-year-old Registered Holstein® cow, owned by Andrew Jay and Lynette E. Buttles of Lancaster, Wisconsin, has set the new record for the most Lifetime Milk produced by a Holstein. Hilda completed 2020 with a lifetime total of 460,720 pounds of milk.

With this new record, Hilda has surpassed the total of the previous Holstein record holder that was set in 2003 by KOEPKE K0017229-1660. Known as the "Granny" cow, her lifetime milk total was 458,616. Twenty-five years prior to that, the record was established in 1978 by Breezewood Patsy Bar Pontiac. Her final lifetime total was 425,769.

When asked what the keys were that enabled Hilda to produce more pounds of milk than any other cow in the history of the breed, Andy Buttles says part of it was Hilda's good blend of production and type.

"She was a moderate sized cow with a great udder." Andy said about Hilda. "She would just make big record after big record and do it easily."

Hilda was classified EX-90 4E and her best record was set during her nine-year old lactation, where she completed 48,200 pounds of milk with three times a day milking. She also had 8 natural daughters during her lifetime.

The herd at Stone-Front Farm has an RHA of 30,058 pounds of milk with 1291 pounds of fat (4.30%) and 914 pounds of protein (3.04%). The Buttles have been milking Registered Holsteins since 1913, and concentrate on breeding well-balanced cows, providing exceptional cow comfort, and working as a team.

For many years, the Registered Holstein cow has been known as the most efficient producer of high-quality milk. Today, there's no better example of tremendous longevity, productive life, and reproductive efficiency in a cow, of any breed, any place in the world than the Buttles' Hilda cow!

Brattleboro, Vt., March 18, 2021 — Holstein Marketplace Sires, which provides a unique avenue for Holstein breeders to market their own genetics, is seeking potential new bulls for their line-up. Under the program, bull owners retain ownership of the bulls, and Holstein Marketplace Sires coordinates marketing and sales.

Ideal candidates are genomic tested bulls with strong genetic merit and deep maternal pedigrees. Desired age is around six months. Holstein breeders with interest in submitting a bull for consideration should email  marketplacesires@holstein.com with the bull's name and registration number by April 16.

To see the strong line-up of Holstein Marketplace Sires available today, visit www.holsteinusa.com/marketplacesires. The site features complete pedigree and genetic information with many generations of photos from their maternal lines, and commentary from the bull owners.

2021 National Holstein Convention Plans Announced

Brattleboro, Vt., March 17, 2021 — The 2021 National Holstein Convention is planned for June 20 – 24, 2021 in Lancaster, Penn. The in-person event will follow all site, local, state, and federal health and safety guidelines.

Convention activities will take place at the Lancaster Marriott at Penn Square and Lancaster County Convention Center. The Annual Meeting will be held on Thursday, June 24 at the Lancaster County Convention Center. During the meeting, the Holstein Association USA's prestigious Elite Breeder, Distinguished Leader, and Distinguished Young Holstein Breeder awards will be presented.

For junior members, the speech contest and Distinguished Junior Member interviews will take place on Monday, June 21. The Dairy Bowl competition will be held on Tuesday, June 22 followed by the Dairy Jeopardy contest on Wednesday, June 23. Spectators at all junior events will be restricted to ensure health and safety guidelines are followed. The folding display, state banner, and state scrapbook contests will not be held in 2021.

Both adult and junior members will be able to attend a variety of fun tours throughout convention ranging from the Pennsylvania Breeders' Tour to Hershey Park. Visit www.2021nationalholsteinconvention.com for more details about the convention schedule, tours, and accommodations.

All site, local, state, and federal health and safety guidelines will be followed during the 2021 National Holstein Convention. Guidelines will be closely monitored, and the schedule and events are subject to change. We look forward to gathering safely in Pennsylvania for the 2021 National Holstein Convention.

Brattleboro, Vt., March 4, 2021 — Holstein Association USA will implement an adjustment to the Total Performance Index® (TPI®) formula in conjunction with the official genetic evaluation run taking place in April 2021.

The Holstein Association USA Genetic Advancement Committee met in February 2021 to review current research and new traits that have been made available to the industry. Opportunities to enhance the TPI formula were identified, and recommendations were made to the Holstein Association USA board of directors, who recently voted to approve those recommendations.

The April 2021 change enhances HAUSA's existing Feed Efficiency (FE$) formula by incorporating the new Feed Saved trait that was released in December 2020. The economic assumptions used in the formula have been updated to match the most current research done by USDA-AGIL.

Feed costs can make up over half of the total costs on a dairy farm and selecting for more feed-efficient cows can improve a farm's bottom line. Genetic selection for feed efficiency supports our industry goals to reduce the overall environmental footprint associated with producing a gallon of milk.

The formula for FE$ starting in April 2021 will be:
($0.0008 x Milk) + ($1.55 x Fat) + ($1.73 x Protein) + ($0.11 x Feed Saved)

The first three components of this formula reflect the extra profit coming from cows producing more pounds of milk, fat, and protein. The additional feed costs required to produce an extra pound of milk, fat, and protein, have been subtracted from the income that farmers receive for their milk. Component prices, reflecting primarily a cheese market, have been updated. The trait Feed Saved includes information based upon HAUSA's Body Weight Composite and new data on dry matter intake from CDCB. Every pound of feed saved returns a net profit of eleven cents per cow per lactation.

Dr. Tom Lawlor, Holstein Association USA Executive Director, Research & Development, points out that "a higher dollar value for the Feed Efficiency index reflects good feed utilization. It includes better utilization of the feed to produce extra pounds of milk, fat, and protein; feed saved from cows with a lower body weight and less maintenance costs; and feed saved from better feed conversion. This last part is known as residual feed intake (RFI), i.e., the difference in efficiency that we see between cows after accounting for the feed that goes into the maintenance of the cow and the production of milk."

The improved Feed Efficiency Dollar index now includes three important contributors to net profit: improved production, controlling maintenance costs, and better feed conversion. As more information has been added to FE$, the difference between the lowest and the highest FE$ animals has expanded. The new TPI formula uses a slightly larger standard deviation for FE$, i.e., 52 versus 45.

The new April 2021 TPI formula:



Breeders should focus upon the overall selection indices, such as TPI, to select their top breeding animals and to cull the lower end animals. FE$ is like other sub-indices such as Body Weight Composite, Feed Saved, Fertility Index, and Health Index, in that, they help us to better understand how we are genetically changing our cows and which parts of the dairy enterprise have the largest impact on your bottom line.

Incorporating feed intake data into the feed efficiency equation provides a valuable piece of information. Of all the sub-indexes, FE$ has the highest correlation with overall total profit. Good feed utilization is the most important component of profitability on your farm.

For more information about the genetic evaluations, visit www.holsteinusa.com.

Brattleboro, Vt., March 3, 2021 — Two new bulls have recently been released through the Holstein Marketplace Sires program, managed by Holstein Services, Inc. Introduced in January 2019, Holstein Marketplace Sires provides a unique avenue for Holstein breeders to market their genetics. Under the program, bull owners retain ownership of the bulls, and Holstein Marketplace Sires coordinates marketing and sales of the bull's semen.

New Releases

Holstein Marketplace Sires is pleased to make two bulls available hailing from the popular Cookiecutter MOM Halo-ET VG-88 DOM family. Halo traces back through six generations of Very Good and Excellent dams to the prominent Snow-N Denises Dellia EX-95 2E GMD DOM.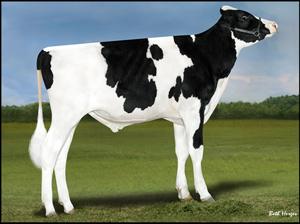 712HO01012 COOKIECUTTER D HELMSMAN-ET *RC, bred and owned by Cookiecutter Holsteins LLC, Hudson Falls, N.Y. HELMSMAN is sired by Claynook Discjockey-ET, out of VG-85 Cookiecutter Avlnc Hayva-ET. His next dam, EX-94 2E Cookiecutter Mac Halmaci-ET, boasts a lifetime production record of almost 174,000 pounds of milk with 4.5% fat and 3.3% protein tests. In total, HELMSMAN is backed by 10 generations of Very Good and Excellent dams. He is a strong type improver at +3.58 PTAT and +2.93 UDC, with positive components and production. HELMSMAN is also a red carrier.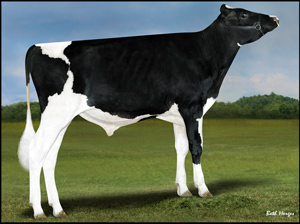 712HO01013 AOT HOOSICK-ET, bred and owned by AOT Genetics, Valley Falls, N.Y. HOOSICK is a K-Style Tarino Spartacus-ET son out of VG-89 DOM Cookiecutter Dta Habitan-ET, then a VG-88 DOM Minnigan-Hills Day-ET, for a total of 10 generations of Very Good and Excellent dams behind him. Coming in at +2925 GTPI®, HOOSICK provides a unique combination of high fertility (+2.6 Fertility Index) and type (+2.42 PTAT & +2.38 UDC). Adding to his well-balanced genetic profile, he also brings to the table strong components (108 CFP, +0.17% F, +0.05% P), desirable SCS (2.81) and PL (+5.4), and easy calving (1.6% SCE).


Holstein Marketplace Sires is offering an Introductory Online Special for HELMSMAN and HOOSICK. Free domestic US shipping included with 20+ unit order minimum of either HOOSICK or HELMSMAN.
Other bulls currently available through Holstein Marketplace Sires
712HO01011 C-HAVEN POSITIVE DELUXE-ET: Positive x VG-87 Slamdunk x VG-87 Josuper, DELUXE ranks amongst the most elite available bulls in the breed at +2986 GTPI®, +1026 DWP$®, +829 NM$ and +849 CM$. He is backed by 15 generations of Very Good and Excellent dams with strong production records, going back to Coldsprings Dur Chan 109-ET EX-95 2E DOM. DELUXE is also A2/A2. Bred and owned by Thomas Priest & Thomas T. Mercuro, Greencastle, Pa. Conventional and a limited amount of sexed DELUXE semen is currently available.
712HO01010 KINGS-RANSOM C CRUISIN-ET: Crushabull x EX-94 Monterey x EX-95 2E Mogul, in total, CRUISIN is backed by 11 generations of high-scoring Excellent dams, going back to "Queen of the Breed" C Glenridge Citation Roxy, and his 10 closest dams average 93.1 points. His genomic conformation values back up the pedigree, at +2.93 PTA Type, +2.58 UDC and +1.19 FLC. CRUISIN is also A2/A2. Bred and owned by Kings-Ransom Farm LLC, Schuylerville, N.Y.
12HO01009 TRAMILDA STUNNING BLAZER: Doctor x VG-87 Delta x VG-85 Chevrolet, BLAZER has a well-balanced, modern genomic profile, being over +1,300 pounds Milk, with 113 pounds combined Fat and Protein, with positive health and fertility traits and desirable conformation values (+1.62 PTAT, +1.68 UDC and +1.08 FLC). Bred and owned by Troy & Austin Yoder, Montezuma, Ga.
712HO01008 OCD KENOBI FOGHAT-ET: Kenobi x VG-87 Burley x EX-90 Delta, FOGHAT is backed by a total of 11 generations of Very Good and Excellent dams, going back through the Markwell Bstar E Raven-ET EX-95 3E GMD DOM cow family. With a +2802 GTPI, he brings a package of high component percentages with a combined 113 pounds of Fat and Protein, along with desirable health traits; +4.8 PL, +2.0 LIV, and +2.7 DPR. Bred and owned by Oakfield Corners Dairy, Oakfield, N.Y.
712HO01007 TERRA-LINDA RYNO-ET: Tahiti x VG-86 Modesty x EX-90 Montross, RYNO hails from the Robthom Georgia Integrity EX-92 2E GMD DOM cow family through a strong maternal line. He is a well-balanced bull, coming in at +2726 GTPI, with strong production numbers of +1,146 Milk and a combined 119 pounds of Fat and Protein, also being A2/A2. RYNO is positive in his fertility traits, is +1.36 PTAT and +1.46 UDC. Bred and owned by Terra Linda Dairy, Tulare, Calif.
712HO01006 RASBERRY CRSBL RIP CITY-ET: Crushabull x VG-85 Monterey x EX-91 Epic, then 17 more generations of Excellent dams behind her, tracing back to Audrey Posch EX-93 2E GMD. RIP CITY boasts impressive conformation values at +3.19 PTAT, +2.63 UDC and +1.40 FLC, complemented by positive component percentages and Fertility Index values. Owned by Karl & Donna Hale, Cloverdale, Ore.
712HO01005 OUR-FAVORITE CHARISMA-ET: King Doc x VG-88 Hang Time x EX-94 2E Atwood from one of Our-Favorite Holsteins' foundational cow families; 10 generations of Very Good and Excellent dams with an average classification of 91.2 points. +2608 GTPI with very strong conformation at +3.29 PTAT, +2.28 UDC, and +1.84 FLC; also, A2/A2 and Kappa Casein BB. Bred and owned by Our-Favorite Holsteins, Fall Creek, Wis.
All bulls offered through Holstein Marketplace Sires are free of any haplotypes impacting fertility.

Visit www.holsteinusa.com/marketplacesires to view complete pedigree and genetic information on HELMSMAN, HOOSICK, and the other Marketplace Sires currently available. The site features many generations of photos from their maternal lines, and commentary from the bull owners.

Purchasing semen from Holstein Marketplace Sires is simple. Order online or over the phone with your credit card and have semen shipped directly to your doorstep. Buy online by visiting www.holsteinusa.com/marketplacesires, click the red "Buy Now" button, fill in number of units you would like to purchase, and check out using our secure online system. Orders may also be placed by calling customer service 800.952.5200 or contacting a Holstein Association USA regional sales representative.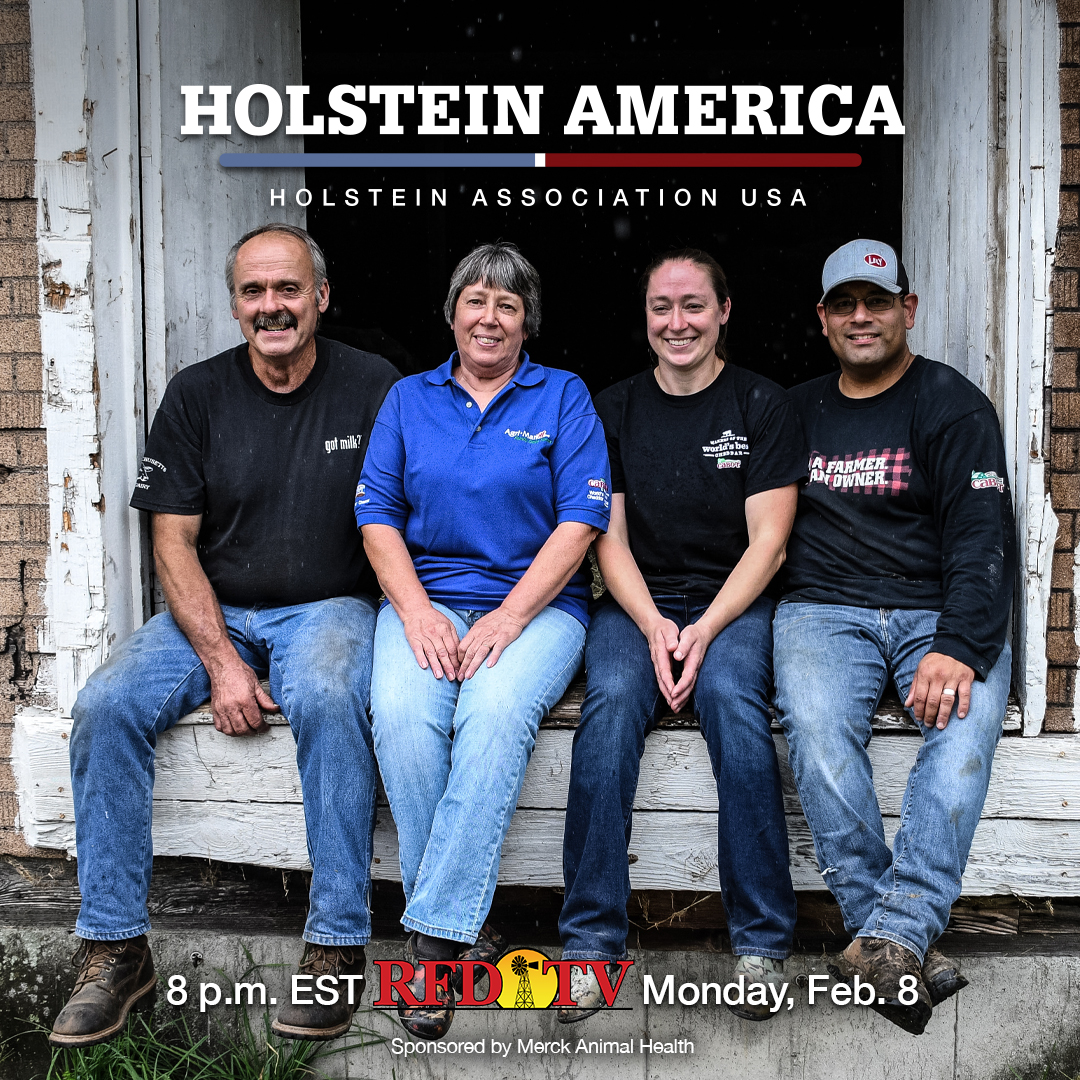 Brattleboro, Vt., January 26, 2021 — Each day, dairy farmers across America rise to the challenge of feeding a growing world.

Consumers today have more choices than ever before when it comes to high quality milk, delicious cheese, and other dairy products. None of this would be possible without U.S. Registered Holsteins®, and the people who raise them.

Holstein Association USA shares stories of the nation's dairy producers through its documentary series Holstein America. Now in the program's fourth year, the next episode broadcasts at 7 p.m. CST Monday, Feb. 8 on RFD-TV. Mark the calendar or set the DVR to record this exciting television broadcast celebrating the dairy community.

"Holstein America is our tribute to dairy farmers and families who are committed to producing the best milk and dairy products possible for consumers," says John Meyer, CEO of Holstein Association USA. "We know you'll enjoy the remarkable stories of the people behind the cows.

In the upcoming episode, Holstein America explores the versatility of milk and U.S. Registered Holsteins.

On farms from Colorado to Massachusetts, individuals, and families from all walks of life share their passion for Registered Holsteins — and providing an abundance of dairy products, sustainably. South Dakota State University students showcase their first-hand experience with dairy production and manufacturing. In Wisconsin, Widmer's Cheese Cellars gives a behind-the-scenes look at how artisan cheeses are handled and made with care.

The hour-long program, sponsored by Merck Animal Health, will also explore the programs and services offered by Holstein Association USA. Members explain the value of registration, classification and new technology offered by the world's largest dairy breed organization.

Join us for Holstein America at 7 p.m. CST, Monday, Feb. 8 on RFD-TV.

RFD-TV is a leading independent cable channel available on DISH Network, DIRECTV®, AT&T U-Verse, Charter Spectrum, Cox, Comcast, Mediacom, Suddenlink and many other rural cable systems. Reference local listings for more information.

Brattleboro, Vt., January 13, 2021 — Holstein Association USA is thrilled to announce the winners of the inaugural Virtual Interview Contest. This program is designed to prepare youth for real world opportunities, giving them the chance to sharpen their resume writing and interview skills.

"The events of the past several months have forced almost everything to be virtual and demonstrated the increasing need to be proficient in virtual event and interview formats," says Kelli Dunklee, Holstein Association USA Youth Specialist. "We thought this would be a great opportunity to equip our youth members with experience and skills they can put to work right away."

Applicants submitted cover letters and resumes based on a mock interview scenario and were selected to move on to the second phase of the contest based on their combined cover letter and resume scores. Youth members completed a virtual interview with a panel of three judges during the second phase. Final scores were calculated based on each applicant's cover letter, resume, and interview. All youth received feedback from the judges to help further prepare them for future interviews.

Cash prizes of $250 for first place, $100 for second place, and $50 for third place will be awarded in the junior and intermediate divisions. In the senior division, youth will be given cash prizes of $500 for first place, $250 for second place, and $100 for third place. Following are the results from each division.
| | | |
| --- | --- | --- |
| | | |
| Jenna Larson | Jon Chapman | Elsie Donlick |
Junior Division (ages 12-14 as of January 1)
1st place: Jenna Larson, Florida
2nd place: Jon Chapman, California
3rd place: Elsie Donlick, New York
| | | |
| --- | --- | --- |
| | | |
| Brianna Meyer | Courtney Glenna | Shelby Sumner |
Intermediate Division (ages 15-17 as of January 1)
1st place: Brianna Meyer, Wisconsin
2nd place: Courtney Glenna, Wisconsin
3rd place: Shelby Sumner, Florida
| | | |
| --- | --- | --- |
| | | |
| Sarah Lehner | Zach Jasmin | Miriam Cook |
Senior Division (ages 18-21 as of January 1)
1st place: Sarah Lehner, Ohio
2nd place: Zach Jasmin, New York
3rd place: Miriam Cook, Michigan
For more information about the Virtual Interview Contest and all of Holstein Association USA's youth programs, visit www.holstein usa.com/juniors/.

Holstein Association USA, Inc., www.holsteinusa.com, provides products and services to dairy producers to enhance genetics and improve profitability-ranging from registry processing to identification programs to consulting services.

The Association, headquartered in Brattleboro, Vt., maintains the records for Registered Holsteins® and represents approximately 30,000 members throughout the United States.