New U.S. Registered Holstein Cow Claims Title for Most Lifetime Milk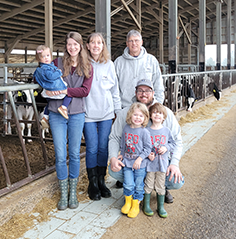 Brattleboro, Vt., February 27, 2023 — Chrome-View Charles 3044 recently topped the record for the most lifetime milk produced by a U.S Holstein cow. The record-breaking cow is owned by Mason's Chrome View farm in Nottingham, Pennsylvania.

The 13-year-old Registered Holstein® cow is in her tenth lactation and broke the record with her lifetime milk production record of 478,200 pounds of milk, 14,447 pounds of fat, and 12,576 pounds of protein and counting.

"As is typical of dairy cows, she prefers to spend her time eating, chewing her cud, being milked, or resting in one of her three favorite stalls," the farm's herd manager Sarah Cady shares. "She vocally protests her dry period and is notably more content once she freshens and resumes her place in the lactating herd."

Alan and Pamela Mason own Mason's Chrome View and manage it along with their son Paul Mason. Together with their employees, they focus on providing the highest standard of care possible to their herd of 500 Registered Holstein cows.

"It is not one or two main things, but rather diligence in a multitude of small things that were key to her success," Paul explains.

Chrome-View Charles 3044's monumental milk production record surpasses the total of the record of 460,720 pounds of lifetime milk, set by Stone-Front Leader Hilda in 2020. Prior to Hilda, Koepke K0017229-1660 broke the record in 2003 with a lifetime milk total of 458,616. The record was established in 1978 by Breezewood Patsy Bar Pontiac with her final lifetime total of 425,769.

The Mason family says 3044 requires very little attention beyond routine animal husbandry practices. Now in her 10th lactation, she has consistently bred back on her first or second service. The rockstar cow also has sound conformation.

"Her build is classic Holstein of average size, open rib, excellent dairy character, remarkable feet and legs, and an udder still beautifully attached as a tenth lactation dairy cow," Cady says. "These features have undoubtedly contributed to her longevity."

The impressive production cow is classified Very Good 88 as a four-year-old and is a Holstein Association USA Region 2 Elite Performer. Her maternal line has the Chrome-View prefix tracing back to an animal born in 1958. She is sired by Cee-Whit Shottle Charles-ET.

For many years, the Registered Holstein cow has been known as the most efficient producer of high-quality milk. Chrome-View Charles 3044 has fed an incredible amount of people in her lifetime. These calculations help put her lifetime milk production total into perspective.

Chrome-View Charles 3044's 478,200 pound lifetime milk production record total is equivalent to:

• 55,605 gallons of milk
• 889,674 cups of milk
• 47,820 pounds of cheese1
• Enough cheese for 127,520 twelve-inch pizzas2
• 593,120 scoops of ice cream3
• 22,557 pounds of butter4


Her lifetime milk production total would also feed 10 people for over 80 years, if each person had the daily requirement of 3 servings of milk per day.5

Taking the average milk price over CHROME-VIEW CHARLES 3044's ten lactations, and the amount of milk she produced, her lifetime milk production has a value of $92,402.50.6

With her extreme longevity, milk production, reproductive efficiency, and health traits, Chrome-View Charles 3044 is an incredible testament to what is possible with U.S. Registered Holsteins!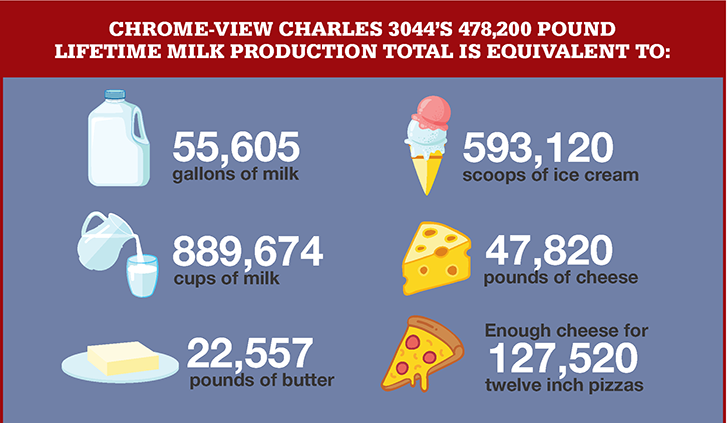 1 Flores, Nancy C. "Making Homemade Cheese: New Mexico State University - Be Bold. Shape the Future." Making Homemade Cheese, College of Agricultural, Consumer and Environmental Sciences, New Mexico State University, Feb. 2022, https://pubs.nmsu.edu/_e/E216/.
2 Staff, Wisconsin Cheese. "How to Host the Ultimate Pizza Party." Wisconsin Cheese, Dairy Farmers of Wisconsin, 12 Oct. 2022, https://www.wisconsincheese.com/the-cheese-life/article/26/perfect-pizza-party.
3 Staff, The Dairy Alliance. "10 Crazy Facts About Ice Cream You Didn't Know." The Dairy Alliance Blog, The Dairy Alliance , 22 Oct. 2020, https://thedairyalliance.com/blog/10-crazy-facts-about-ice-cream-you-didnt-know/.
4 Dairy-Cattle. "How Many Pounds of Whole Milk Does It Take to Make a Pound of Butter?" DAIReXNET, Cooperative Extension, USDA National Institute of Food and Agriculture. , 16 Aug. 2019, https://dairy-cattle.extension.org/how-many-pounds-of-whole-milk-does-it-take-to-make-a-pound-of-butter/.
5 Ragalie-Carr, Jean. "How Many Servings of Dairy Do We Need a Day?" How Many Servings of Dairy Do We Need a Day? | U.S. Dairy, National Dairy Council, 21 Dec. 2018, https://www.usdairy.com/news-articles/do-we-really-need-three-daily-servings-of-dairy.
6 USDA. "United States Department of Agriculture." USDA National Agricultural Statistics Service, United States Department of Agriculture, 31 Jan. 2023, https://www.nass.usda.gov/Charts_and_Maps/Agricultural_Prices/pricemk.php.

Brattleboro, Vt., February 10, 2023 — Registration is open for the 2023 Holstein Association USA Judges Conference. This year's conference will be held on Thursday, April 27 from 9:00 a.m. to 4:00 p.m., in conjunction with the Wisconsin Dairy Showcase in Madison, Wisconsin.
The Judges Conference will start with a classroom session, where topics like why conformation matters, current showring trends, managing a showring, and common dilemmas will be discussed. In the afternoon session, participants will place classes of heifers and cows, hear placings and reasons from fellow participants and officials, and take part in group discussion.
Interested participants can register for the conference on the Holstein Association USA website with a credit card. The pre-registration fee is $50 and late registrants and walk-ins will pay a $100 fee. Pre-registration will close two weeks before the conference, on Thursday, April 13.
If individuals want to participate in the Judges Conference and not receive an official rating, they have the option to do so to gain experience, but will not be eligible to apply for the Judges List.
Participants must be 22 years old by the day of the conference to attend. To register online, visit www.holsteinusa.com/shows/judges_preregister.html. For more information contact Jodi Hoynoski at 800.952.5200 ext. 4261 or by email.

Brattleboro, Vt., February 7, 2023 — Allflex has announced a price increase on ear tags, "due to the rising cost of doing business in today's economy." As a result, Holstein Association USA is updating pricing on ear tags, ear tag accessories and TSU's.
Holstein Association USA has offered Allflex ear tags for more than 25 years. During that time, Holstein Association USA has typically absorbed the increased costs, and has not passed them onto our customers. This will be only the second price increase across all tag products in more than 25 years. We continue to offer a variety of products and product combinations to meet the ear tag needs of our customers, at a competitive price.
Submit new ear tag orders before 5 pm EST, February 17 to receive current pricing. Orders received after 5 pm EST, February 17 will be subject to new pricing.
New pricing can be viewed here.

Holstein America Broadcasts February 13 on RFD-TV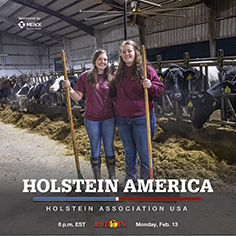 Brattleboro, Vt., February 2, 2023 — Every dairy has a story, and for six years, Holstein America has shared modern-day farm life with audiences around the world. The documentary series, produced by Holstein Association USA, pays tribute to U.S. Registered Holsteins®, the world's perfect cow, and the people who raise them.
Tune in to the next episode of Holstein America at 7 p.m. CST/8 p.m. EST, Monday, February 13, on RFD-TV.
In 2022, 970 herds had a BAA value eligible for inclusion in these lists. The average number of cows included in the BAA calculation for the entire group was 68, and the average BAA% was 107.7. Herds must have a minimum of 10 cows to be included for calculation on the list.
"As the nation's leading television program devoted to the dairy community, we are honored to tell these important stories," says John Meyer, CEO of Holstein Association USA. "This next episode of Holstein America is a wonderful example of the diverse reaches of the Registered Holstein cow."
At the heart of the program are Holstein breeders, who ensure an abundance of dairy products are produced efficiently, sustainably and at the highest quality in the world. Holstein America visits a dairy in southwest Missouri, where two brothers are continuing a family tradition generations in the making. The show also spotlights an industry trailblazer from Pennsylvania, who helped pioneer early genetic innovations for dairy producers.
The upcoming Holstein America will also showcase work at colleges and universities to grow an even brighter dairy future. From the Midwest to the East Coast, student-run dairy farms are inspiring students to dream big in the dairy industry. At Western Kentucky University, see how the one-of-a-kind WKU SmartHolstein Lab sparks curiosity and future technology for dairy producers around the world.
Opportunities for careers in the dairy industry expand far beyond the barn. Hear the story of how a longtime cheesemaker in New England works to engage the next generation about where their food comes from.
The hour-long program, sponsored by Merck Animal Health, also explores programs and services offered by Holstein Association USA, including a look at genetic offerings through Holstein Marketplace Sires, and research into how dairy conformation plays a role in overall productivity and performance.
Join us for Holstein America at 7 p.m. CST, Monday, February 13, on RFD-TV.
RFD-TV is a leading independent cable channel available on DISH Network, DIRECTV®, AT&T U-Verse, Charter Spectrum, Cox, Comcast, Mediacom, Suddenlink and many other rural cable systems. Reference local listings for more information.
After the show, visit www.holsteinusa.com to find a complete collection of the Holstein America series. Also stay tuned to Holstein Association USA on Facebook and Instagram for more information.

Brattleboro, Vt., January 9, 2023 — Holstein Association USA recently released the lists of top Holstein Breed Age Average (BAA%) herds for 2022 classifications. Members utilizing the Classic or Standard options of the Holstein classification program receive an overall BAA for their herd. The BAA value provides a way to compare an animal's score to breed average, taking into account the age of the animal and their stage of lactation. The calculation puts cows of all ages on the same playing field.
"Providing recognition to breeders of outstanding Registered Holstein cattle across the country is one of the more enjoyable activities we perform at Holstein Association," said Lindsey Worden, Executive Director, Holstein Genetic Services. "Earning recognition as a high BAA herd on any of the various lists is a notable achievement. It shows a commitment to breeding quality Holstein cattle, paired with outstanding animal husbandry and management that allows those cattle to express their genetic potential."
In 2022, 970 herds had a BAA value eligible for inclusion in these lists. The average number of cows included in the BAA calculation for the entire group was 68, and the average BAA% was 107.7. Herds must have a minimum of 10 cows to be included for calculation on the list.
Topping the 2022 highest overall BAA list are Delbert W. and Heather D. Yoder from West Salem, Ohio, with a BAA of 116.3. Also earning honors in the top five spots on the list are Matthew T. Mitchell, Tennessee; Juniper Farm, Inc., Maine; Conant Acres, Maine; and G. Alpheaus Stoltzfus, Pennsylvania.
Lists are broken down in several different ways to recognize members across the country with herds of all sizes. Lists of the Overall Top 200 BAA Herds, Top 25 BAA Herds by Region, Top 25 BAA Herds by Herd Size, and Top 15 BAA Herds for Colleges & Universities can be viewed at www.holsteinusa.com. Find the page under the Popular List section on the homepage or directly at www.holsteinusa.com/programs_services/baa_lists_2022.html. Congratulations to all herds on these lists!




Brattleboro, Vt., January 5, 2023 — Junior Holstein Association members put their interviewing skills to the test during the 2022 Virtual Interview Contest. The program was created in 2020 to help prepare youth for real world opportunities by sharpening their resume writing and interview skills.

Applicants submitted cover letters and resumes based on a mock interview scenario and were selected to move on to the second phase of the contest based on their combined cover letter and resume scores. During the second phase contestants were interviewed by a panel of three judges. Final scores were calculated based on each applicant?s cover letter, resume, and interview. All youth received feedback from the judges to help further prepare them for future interviews.

"The National Junior Holstein Association Virtual Interview Contest allowed me to sharpen my interview skills, particularly strengthening my ability to respond to impromptu questions," says contest participant Sarah Craun from Virginia. "I enjoyed the interaction with the interview panel and I am grateful for the real world learning experience that will certainly benefit me in my future career endeavors."

Congratulations to the following 2022 Virtual Interview Contest winners!

Junior Division (ages 12-14 as of January 1)
1st place: Lauren Silveira, California
2nd place: Alison Gartman, Wisconsin
3rd place: Chloe Chapman, California

Intermediate Division (ages 15-17 as of January 1)
1st place: Elsie Donlick, New York
2nd place: Sarah Craun, Virginia
3rd place: Salem Sifford, Virginia

Senior Division (ages 18-21 as of January 1)
1st place: Emily Syme, Connecticut
2nd place: Madison Sifford, Virginia
3rd place: Jon Chapman, California


Cash prizes of $250 for first place, $100 for second place, and $50 for third place will be awarded in the junior and intermediate divisions. In the senior division, youth will be given cash prizes of $500 for first place, $250 for second place, and $100 for third place.

For more information about the Virtual Interview Contest, or other Holstein Association USA youth programs, visit www.holstein usa.com/juniors/.

Holstein Association USA, Inc., provides programs, products and services to dairy producers to enhance genetics and improve profitability ? including animal identification and ear tags, genomic testing, mating programs, dairy records processing, classification, communication, consulting services, and Holstein semen.

The Association, headquartered in Brattleboro, VT., represents approximately 25,000 members throughout the United States. To learn more about Registered Holsteins® and the other exciting programs offered by the Holstein Association, visit www.holsteinusa.com, and follow us on Instagram, Facebook, and Twitter.